Jewelbox
MAXIMUM GUESTS: 6
WHERE: Town

3 BEDROOMS:
Bedroom 1 (fl 2): Queen, ensuite
Bedroom 2 (fl 1): Queen
Bedroom 3 (fl 1): Twin (2), ensuite
3 BATHROOMS:
Bathroom 1 (fl 2): Full (clawfoot tub)
Bathroom 2 (fl 1): Full
Bathroom 3 (fl 1): Full
ESSENTIALS/ AMENITIES:
✓ 8' x 9' "Cocktail pool"
✓ Central A/C
✓ High speed internet access (Wi-Fi)
✓ Telephone (landline) with free long-distance
✓ Daily housekeeping (except Sundays and holidays)
✓ Combination safe for personal belongings
✓ Cable TV
✓ Whole house stereo
✓ Outdoor grill
✓ Outdoor shower
X Generator

INSTAGRAM
#jewelboxbahamas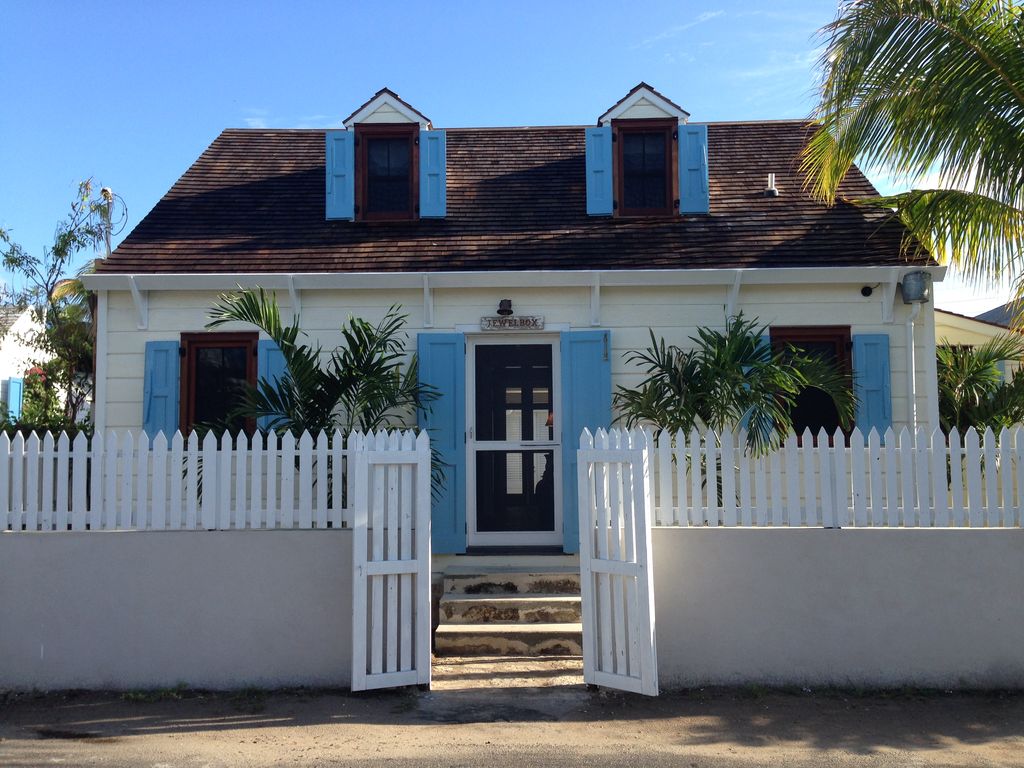 As seen in the September 2015 Issue of Coastal Living Magazine!
Located in the heart of historic Dunmore Town and restored in 2013, Jewelbox is one of Harbour Island's original homes. Long abandoned when the owners found it, the original structure now looks much as it did when when built in the 1700's and embodies all the old world charm one hopes for in an island home.
Open, airy and extremely comfortable Jewelbox is a delightful home away from home. A perfectly sized 8' x 9' pool was installed in the Fall of 2017. Great for relaxing in after a day at the beach.
Jewelbox is a three bedroom, three bath home with a dining porch, lounging porch, pool and small garden. There are two queen bedrooms. One is en suite, upstairs in the main house, and the other is in the rear cottage that is connected to the house via the sitting porch. There is a bedroom with two twins (also with en suite bathroom) in the main house on the ground floor. There is wonderful attention to details in this house, right down to the down pillows and luxury linens.